CEU Course 1226: Quality Support for Children During Periods of Marital Discord Among their Parents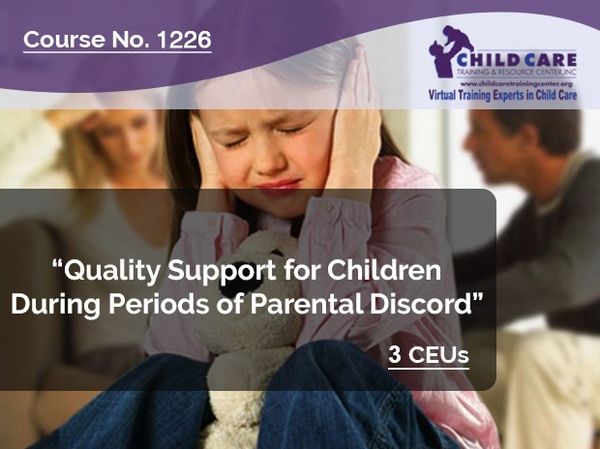 CEU Course 1226: Quality Support for Children During Periods of Marital Discord Among their Parents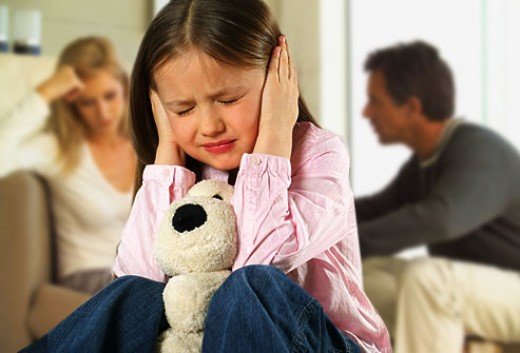 <!--[if gte mso 9]><xml> <o:OfficeDocumentSettings> <o:AllowPNG></o:AllowPNG> </o:OfficeDocumentSettings> </xml><![endif]--><!--[if gte mso 9]><xml> <w:WordDocument> <w:View>Normal</w:View> <w:Zoom>0</w:Zoom> <w:TrackMoves></w:TrackMoves> <w:TrackFormatting></w:TrackFormatting> <w:PunctuationKerning></w:PunctuationKerning> <w:ValidateAgainstSchemas></w:ValidateAgainstSchemas> <w:SaveIfXMLInvalid>false</w:SaveIfXMLInvalid> <w:IgnoreMixedContent>false</w:IgnoreMixedContent> <w:AlwaysShowPlaceholderText>false</w:AlwaysShowPlaceholderText> <w:DoNotPromoteQF></w:DoNotPromoteQF> <w:LidThemeOther>EN-US</w:LidThemeOther> <w:LidThemeAsian>X-NONE</w:LidThemeAsian> <w:LidThemeComplexScript>X-NONE</w:LidThemeComplexScript> <w:Compatibility> <w:BreakWrappedTables></w:BreakWrappedTables> <w:SnapToGridInCell></w:SnapToGridInCell> <w:WrapTextWithPunct></w:WrapTextWithPunct> <w:UseAsianBreakRules></w:UseAsianBreakRules> <w:DontGrowAutofit></w:DontGrowAutofit> <w:SplitPgBreakAndParaMark></w:SplitPgBreakAndParaMark> <w:EnableOpenTypeKerning></w:EnableOpenTypeKerning> <w:DontFlipMirrorIndents></w:DontFlipMirrorIndents> <w:OverrideTableStyleHps></w:OverrideTableStyleHps> </w:Compatibility> <m:mathPr> <m:mathFont m:val="Cambria Math"></m:mathFont> <m:brkBin m:val="before"></m:brkBin> <m:brkBinSub m:val="--"></m:brkBinSub> <m:smallFrac m:val="off"></m:smallFrac> <m:dispDef></m:dispDef> <m:lMargin m:val="0"></m:lMargin> <m:rMargin m:val="0"></m:rMargin> <m:defJc m:val="centerGroup"></m:defJc> <m:wrapIndent m:val="1440"></m:wrapIndent> <m:intLim m:val="subSup"></m:intLim> <m:naryLim m:val="undOvr"></m:naryLim> </m:mathPr></w:WordDocument> </xml><![endif]--><!--[if gte mso 9]><xml> <w:LatentStyles DefLockedState="false" DefUnhideWhenUsed="false" DefSemiHidden="false" DefQFormat="false" DefPriority="99" LatentStyleCount="372"> <w:LsdException Locked="false" Priority="0" QFormat="true" Name="Normal"></w:LsdException> <w:LsdException Locked="false" Priority="9" QFormat="true" Name="heading 1"></w:LsdException> <w:LsdException Locked="false" Priority="9" SemiHidden="true" UnhideWhenUsed="true" QFormat="true" Name="heading 2"></w:LsdException> <w:LsdException Locked="false" Priority="9" SemiHidden="true" UnhideWhenUsed="true" QFormat="true" Name="heading 3"></w:LsdException> <w:LsdException Locked="false" Priority="9" SemiHidden="true" UnhideWhenUsed="true" QFormat="true" Name="heading 4"></w:LsdException> <w:LsdException Locked="false" Priority="9" SemiHidden="true" UnhideWhenUsed="true" QFormat="true" Name="heading 5"></w:LsdException> <w:LsdException Locked="false" Priority="9" SemiHidden="true" UnhideWhenUsed="true" QFormat="true" Name="heading 6"></w:LsdException> <w:LsdException Locked="false" Priority="9" SemiHidden="true" UnhideWhenUsed="true" QFormat="true" Name="heading 7"></w:LsdException> <w:LsdException Locked="false" Priority="9" SemiHidden="true" UnhideWhenUsed="true" QFormat="true" Name="heading 8"></w:LsdException> <w:LsdException Locked="false" Priority="9" SemiHidden="true" UnhideWhenUsed="true" QFormat="true" Name="heading 9"></w:LsdException> <w:LsdException Locked="false" SemiHidden="true" UnhideWhenUsed="true" Name="index 1"></w:LsdException> <w:LsdException Locked="false" SemiHidden="true" UnhideWhenUsed="true" Name="index 2"></w:LsdException> <w:LsdException Locked="false" SemiHidden="true" UnhideWhenUsed="true" Name="index 3"></w:LsdException> <w:LsdException Locked="false" SemiHidden="true" UnhideWhenUsed="true" Name="index 4"></w:LsdException> <w:LsdException Locked="false" SemiHidden="true" UnhideWhenUsed="true" Name="index 5"></w:LsdException> <w:LsdException Locked="false" SemiHidden="true" UnhideWhenUsed="true" Name="index 6"></w:LsdException> <w:LsdException Locked="false" SemiHidden="true" UnhideWhenUsed="true" Name="index 7"></w:LsdException> <w:LsdException Locked="false" SemiHidden="true" UnhideWhenUsed="true" Name="index 8"></w:LsdException> <w:LsdException Locked="false" SemiHidden="true" UnhideWhenUsed="true" Name="index 9"></w:LsdException> <w:LsdException Locked="false" Priority="39" SemiHidden="true" UnhideWhenUsed="true" Name="toc 1"></w:LsdException> <w:LsdException Locked="false" Priority="39" SemiHidden="true" UnhideWhenUsed="true" Name="toc 2"></w:LsdException> <w:LsdException Locked="false" Priority="39" SemiHidden="true" UnhideWhenUsed="true" Name="toc 3"></w:LsdException> <w:LsdException Locked="false" Priority="39" SemiHidden="true" UnhideWhenUsed="true" Name="toc 4"></w:LsdException> <w:LsdException Locked="false" Priority="39" SemiHidden="true" UnhideWhenUsed="true" Name="toc 5"></w:LsdException> <w:LsdException Locked="false" Priority="39" SemiHidden="true" UnhideWhenUsed="true" Name="toc 6"></w:LsdException> <w:LsdException Locked="false" Priority="39" SemiHidden="true" UnhideWhenUsed="true" Name="toc 7"></w:LsdException> <w:LsdException Locked="false" Priority="39" SemiHidden="true" UnhideWhenUsed="true" Name="toc 8"></w:LsdException> <w:LsdException Locked="false" Priority="39" SemiHidden="true" UnhideWhenUsed="true" Name="toc 9"></w:LsdException> <w:LsdException Locked="false" SemiHidden="true" UnhideWhenUsed="true" Name="Normal Indent"></w:LsdException> <w:LsdException Locked="false" SemiHidden="true" UnhideWhenUsed="true" Name="footnote text"></w:LsdException> <w:LsdException Locked="false" SemiHidden="true" UnhideWhenUsed="true" Name="annotation text"></w:LsdException> <w:LsdException Locked="false" SemiHidden="true" UnhideWhenUsed="true" Name="header"></w:LsdException> <w:LsdException Locked="false" SemiHidden="true" UnhideWhenUsed="true" Name="footer"></w:LsdException> <w:LsdException Locked="false" SemiHidden="true" UnhideWhenUsed="true" Name="index heading"></w:LsdException> <w:LsdException Locked="false" Priority="35" SemiHidden="true" UnhideWhenUsed="true" QFormat="true" Name="caption"></w:LsdException> <w:LsdException Locked="false" SemiHidden="true" UnhideWhenUsed="true" Name="table of figures"></w:LsdException> <w:LsdException Locked="false" SemiHidden="true" UnhideWhenUsed="true" Name="envelope address"></w:LsdException> <w:LsdException Locked="false" SemiHidden="true" UnhideWhenUsed="true" Name="envelope return"></w:LsdException> <w:LsdException Locked="false" SemiHidden="true" UnhideWhenUsed="true" Name="footnote reference"></w:LsdException> <w:LsdException Locked="false" SemiHidden="true" UnhideWhenUsed="true" Name="annotation reference"></w:LsdException> <w:LsdException Locked="false" SemiHidden="true" UnhideWhenUsed="true" Name="line number"></w:LsdException> <w:LsdException Locked="false" SemiHidden="true" UnhideWhenUsed="true" Name="page number"></w:LsdException> <w:LsdException Locked="false" SemiHidden="true" UnhideWhenUsed="true" Name="endnote reference"></w:LsdException> <w:LsdException Locked="false" SemiHidden="true" UnhideWhenUsed="true" Name="endnote text"></w:LsdException> <w:LsdException Locked="false" SemiHidden="true" UnhideWhenUsed="true" Name="table of authorities"></w:LsdException> <w:LsdException Locked="false" SemiHidden="true" UnhideWhenUsed="true" Name="macro"></w:LsdException> <w:LsdException Locked="false" SemiHidden="true" UnhideWhenUsed="true" Name="toa heading"></w:LsdException> <w:LsdException Locked="false" SemiHidden="true" UnhideWhenUsed="true" Name="List"></w:LsdException> <w:LsdException Locked="false" SemiHidden="true" UnhideWhenUsed="true" Name="List Bullet"></w:LsdException> <w:LsdException Locked="false" SemiHidden="true" UnhideWhenUsed="true" Name="List Number"></w:LsdException> <w:LsdException Locked="false" SemiHidden="true" UnhideWhenUsed="true" Name="List 2"></w:LsdException> <w:LsdException Locked="false" SemiHidden="true" UnhideWhenUsed="true" Name="List 3"></w:LsdException> <w:LsdException Locked="false" SemiHidden="true" UnhideWhenUsed="true" Name="List 4"></w:LsdException> <w:LsdException Locked="false" SemiHidden="true" UnhideWhenUsed="true" Name="List 5"></w:LsdException> <w:LsdException Locked="false" SemiHidden="true" UnhideWhenUsed="true" Name="List Bullet 2"></w:LsdException> <w:LsdException Locked="false" SemiHidden="true" UnhideWhenUsed="true" Name="List Bullet 3"></w:LsdException> <w:LsdException Locked="false" SemiHidden="true" UnhideWhenUsed="true" Name="List Bullet 4"></w:LsdException> <w:LsdException Locked="false" SemiHidden="true" UnhideWhenUsed="true" Name="List Bullet 5"></w:LsdException> <w:LsdException Locked="false" SemiHidden="true" UnhideWhenUsed="true" Name="List Number 2"></w:LsdException> <w:LsdException Locked="false" SemiHidden="true" UnhideWhenUsed="true" Name="List Number 3"></w:LsdException> <w:LsdException Locked="false" SemiHidden="true" UnhideWhenUsed="true" Name="List Number 4"></w:LsdException> <w:LsdException Locked="false" SemiHidden="true" UnhideWhenUsed="true" Name="List Number 5"></w:LsdException> <w:LsdException Locked="false" Priority="10" QFormat="true" Name="Title"></w:LsdException> <w:LsdException Locked="false" SemiHidden="true" UnhideWhenUsed="true" Name="Closing"></w:LsdException> <w:LsdException Locked="false" SemiHidden="true" UnhideWhenUsed="true" Name="Signature"></w:LsdException> <w:LsdException Locked="false" Priority="1" SemiHidden="true" UnhideWhenUsed="true" Name="Default Paragraph Font"></w:LsdException> <w:LsdException Locked="false" SemiHidden="true" UnhideWhenUsed="true" Name="Body Text"></w:LsdException> <w:LsdException Locked="false" SemiHidden="true" UnhideWhenUsed="true" Name="Body Text Indent"></w:LsdException> <w:LsdException Locked="false" SemiHidden="true" UnhideWhenUsed="true" Name="List Continue"></w:LsdException> <w:LsdException Locked="false" SemiHidden="true" UnhideWhenUsed="true" Name="List Continue 2"></w:LsdException> <w:LsdException Locked="false" SemiHidden="true" UnhideWhenUsed="true" Name="List Continue 3"></w:LsdException> <w:LsdException Locked="false" SemiHidden="true" UnhideWhenUsed="true" Name="List Continue 4"></w:LsdException> <w:LsdException Locked="false" SemiHidden="true" UnhideWhenUsed="true" Name="List Continue 5"></w:LsdException> <w:LsdException Locked="false" SemiHidden="true" UnhideWhenUsed="true" Name="Message Header"></w:LsdException> <w:LsdException Locked="false" Priority="11" QFormat="true" Name="Subtitle"></w:LsdException> <w:LsdException Locked="false" SemiHidden="true" UnhideWhenUsed="true" Name="Salutation"></w:LsdException> <w:LsdException Locked="false" SemiHidden="true" UnhideWhenUsed="true" Name="Date"></w:LsdException> <w:LsdException Locked="false" SemiHidden="true" UnhideWhenUsed="true" Name="Body Text First Indent"></w:LsdException> <w:LsdException Locked="false" SemiHidden="true" UnhideWhenUsed="true" Name="Body Text First Indent 2"></w:LsdException> <w:LsdException Locked="false" SemiHidden="true" UnhideWhenUsed="true" Name="Note Heading"></w:LsdException> <w:LsdException Locked="false" SemiHidden="true" UnhideWhenUsed="true" Name="Body Text 2"></w:LsdException> <w:LsdException Locked="false" SemiHidden="true" UnhideWhenUsed="true" Name="Body Text 3"></w:LsdException> <w:LsdException Locked="false" SemiHidden="true" UnhideWhenUsed="true" Name="Body Text Indent 2"></w:LsdException> <w:LsdException Locked="false" SemiHidden="true" UnhideWhenUsed="true" Name="Body Text Indent 3"></w:LsdException> <w:LsdException Locked="false" SemiHidden="true" UnhideWhenUsed="true" Name="Block Text"></w:LsdException> <w:LsdException Locked="false" SemiHidden="true" UnhideWhenUsed="true" Name="Hyperlink"></w:LsdException> <w:LsdException Locked="false" SemiHidden="true" UnhideWhenUsed="true" Name="FollowedHyperlink"></w:LsdException> <w:LsdException Locked="false" Priority="22" QFormat="true" Name="Strong"></w:LsdException> <w:LsdException Locked="false" Priority="20" QFormat="true" Name="Emphasis"></w:LsdException> <w:LsdException Locked="false" SemiHidden="true" UnhideWhenUsed="true" Name="Document Map"></w:LsdException> <w:LsdException Locked="false" SemiHidden="true" UnhideWhenUsed="true" Name="Plain Text"></w:LsdException> <w:LsdException Locked="false" SemiHidden="true" UnhideWhenUsed="true" Name="E-mail Signature"></w:LsdException> <w:LsdException Locked="false" SemiHidden="true" UnhideWhenUsed="true" Name="HTML Top of Form"></w:LsdException> <w:LsdException Locked="false" SemiHidden="true" UnhideWhenUsed="true" Name="HTML Bottom of Form"></w:LsdException> <w:LsdException Locked="false" SemiHidden="true" UnhideWhenUsed="true" Name="Normal (Web)"></w:LsdException> <w:LsdException Locked="false" SemiHidden="true" UnhideWhenUsed="true" Name="HTML Acronym"></w:LsdException> <w:LsdException Locked="false" SemiHidden="true" UnhideWhenUsed="true" Name="HTML Address"></w:LsdException> <w:LsdException Locked="false" SemiHidden="true" UnhideWhenUsed="true" Name="HTML Cite"></w:LsdException> <w:LsdException Locked="false" SemiHidden="true" UnhideWhenUsed="true" Name="HTML Code"></w:LsdException> <w:LsdException Locked="false" SemiHidden="true" UnhideWhenUsed="true" Name="HTML Definition"></w:LsdException> <w:LsdException Locked="false" SemiHidden="true" UnhideWhenUsed="true" Name="HTML Keyboard"></w:LsdException> <w:LsdException Locked="false" SemiHidden="true" UnhideWhenUsed="true" Name="HTML Preformatted"></w:LsdException> <w:LsdException Locked="false" SemiHidden="true" UnhideWhenUsed="true" Name="HTML Sample"></w:LsdException> <w:LsdException Locked="false" SemiHidden="true" UnhideWhenUsed="true" Name="HTML Typewriter"></w:LsdException> <w:LsdException Locked="false" SemiHidden="true" UnhideWhenUsed="true" Name="HTML Variable"></w:LsdException> <w:LsdException Locked="false" SemiHidden="true" UnhideWhenUsed="true" Name="Normal Table"></w:LsdException> <w:LsdException Locked="false" SemiHidden="true" UnhideWhenUsed="true" Name="annotation subject"></w:LsdException> <w:LsdException Locked="false" SemiHidden="true" UnhideWhenUsed="true" Name="No List"></w:LsdException> <w:LsdException Locked="false" SemiHidden="true" UnhideWhenUsed="true" Name="Outline List 1"></w:LsdException> <w:LsdException Locked="false" SemiHidden="true" UnhideWhenUsed="true" Name="Outline List 2"></w:LsdException> <w:LsdException Locked="false" SemiHidden="true" UnhideWhenUsed="true" Name="Outline List 3"></w:LsdException> <w:LsdException Locked="false" SemiHidden="true" UnhideWhenUsed="true" Name="Table Simple 1"></w:LsdException> <w:LsdException Locked="false" SemiHidden="true" UnhideWhenUsed="true" Name="Table Simple 2"></w:LsdException> <w:LsdException Locked="false" SemiHidden="true" UnhideWhenUsed="true" Name="Table Simple 3"></w:LsdException> <w:LsdException Locked="false" SemiHidden="true" UnhideWhenUsed="true" Name="Table Classic 1"></w:LsdException> <w:LsdException Locked="false" SemiHidden="true" UnhideWhenUsed="true" Name="Table Classic 2"></w:LsdException> <w:LsdException Locked="false" SemiHidden="true" UnhideWhenUsed="true" Name="Table Classic 3"></w:LsdException> <w:LsdException Locked="false" SemiHidden="true" UnhideWhenUsed="true" Name="Table Classic 4"></w:LsdException> <w:LsdException Locked="false" SemiHidden="true" UnhideWhenUsed="true" Name="Table Colorful 1"></w:LsdException> <w:LsdException Locked="false" SemiHidden="true" UnhideWhenUsed="true" Name="Table Colorful 2"></w:LsdException> <w:LsdException Locked="false" SemiHidden="true" UnhideWhenUsed="true" Name="Table Colorful 3"></w:LsdException> <w:LsdException Locked="false" SemiHidden="true" UnhideWhenUsed="true" Name="Table Columns 1"></w:LsdException> <w:LsdException Locked="false" SemiHidden="true" UnhideWhenUsed="true" Name="Table Columns 2"></w:LsdException> <w:LsdException Locked="false" SemiHidden="true" UnhideWhenUsed="true" Name="Table Columns 3"></w:LsdException> <w:LsdException Locked="false" SemiHidden="true" UnhideWhenUsed="true" Name="Table Columns 4"></w:LsdException> <w:LsdException Locked="false" SemiHidden="true" UnhideWhenUsed="true" Name="Table Columns 5"></w:LsdException> <w:LsdException Locked="false" SemiHidden="true" UnhideWhenUsed="true" Name="Table Grid 1"></w:LsdException> <w:LsdException Locked="false" SemiHidden="true" UnhideWhenUsed="true" Name="Table Grid 2"></w:LsdException> <w:LsdException Locked="false" SemiHidden="true" UnhideWhenUsed="true" Name="Table Grid 3"></w:LsdException> <w:LsdException Locked="false" SemiHidden="true" UnhideWhenUsed="true" Name="Table Grid 4"></w:LsdException> <w:LsdException Locked="false" SemiHidden="true" UnhideWhenUsed="true" Name="Table Grid 5"></w:LsdException> <w:LsdException Locked="false" SemiHidden="true" UnhideWhenUsed="true" Name="Table Grid 6"></w:LsdException> <w:LsdException Locked="false" SemiHidden="true" UnhideWhenUsed="true" Name="Table Grid 7"></w:LsdException> <w:LsdException Locked="false" SemiHidden="true" UnhideWhenUsed="true" Name="Table Grid 8"></w:LsdException> <w:LsdException Locked="false" SemiHidden="true" UnhideWhenUsed="true" Name="Table List 1"></w:LsdException> <w:LsdException Locked="false" SemiHidden="true" UnhideWhenUsed="true" Name="Table List 2"></w:LsdException> <w:LsdException Locked="false" SemiHidden="true" UnhideWhenUsed="true" Name="Table List 3"></w:LsdException> <w:LsdException Locked="false" SemiHidden="true" UnhideWhenUsed="true" Name="Table List 4"></w:LsdException> <w:LsdException Locked="false" SemiHidden="true" UnhideWhenUsed="true" Name="Table List 5"></w:LsdException> <w:LsdException Locked="false" SemiHidden="true" UnhideWhenUsed="true" Name="Table List 6"></w:LsdException> <w:LsdException Locked="false" SemiHidden="true" UnhideWhenUsed="true" Name="Table List 7"></w:LsdException> <w:LsdException Locked="false" SemiHidden="true" UnhideWhenUsed="true" Name="Table List 8"></w:LsdException> <w:LsdException Locked="false" SemiHidden="true" UnhideWhenUsed="true" Name="Table 3D effects 1"></w:LsdException> <w:LsdException Locked="false" SemiHidden="true" UnhideWhenUsed="true" Name="Table 3D effects 2"></w:LsdException> <w:LsdException Locked="false" SemiHidden="true" UnhideWhenUsed="true" Name="Table 3D effects 3"></w:LsdException> <w:LsdException Locked="false" SemiHidden="true" UnhideWhenUsed="true" Name="Table Contemporary"></w:LsdException> <w:LsdException Locked="false" SemiHidden="true" UnhideWhenUsed="true" Name="Table Elegant"></w:LsdException> <w:LsdException Locked="false" SemiHidden="true" UnhideWhenUsed="true" Name="Table Professional"></w:LsdException> <w:LsdException Locked="false" SemiHidden="true" UnhideWhenUsed="true" Name="Table Subtle 1"></w:LsdException> <w:LsdException Locked="false" SemiHidden="true" UnhideWhenUsed="true" Name="Table Subtle 2"></w:LsdException> <w:LsdException Locked="false" SemiHidden="true" UnhideWhenUsed="true" Name="Table Web 1"></w:LsdException> <w:LsdException Locked="false" SemiHidden="true" UnhideWhenUsed="true" Name="Table Web 2"></w:LsdException> <w:LsdException Locked="false" SemiHidden="true" UnhideWhenUsed="true" Name="Table Web 3"></w:LsdException> <w:LsdException Locked="false" SemiHidden="true" UnhideWhenUsed="true" Name="Balloon Text"></w:LsdException> <w:LsdException Locked="false" Priority="0" Name="Table Grid"></w:LsdException> <w:LsdException Locked="false" SemiHidden="true" UnhideWhenUsed="true" Name="Table Theme"></w:LsdException> <w:LsdException Locked="false" SemiHidden="true" Name="Placeholder Text"></w:LsdException> <w:LsdException Locked="false" Priority="1" QFormat="true" Name="No Spacing"></w:LsdException> <w:LsdException Locked="false" Priority="60" Name="Light Shading"></w:LsdException> <w:LsdException Locked="false" Priority="61" Name="Light List"></w:LsdException> <w:LsdException Locked="false" Priority="62" Name="Light Grid"></w:LsdException> <w:LsdException Locked="false" Priority="63" Name="Medium Shading 1"></w:LsdException> <w:LsdException Locked="false" Priority="64" Name="Medium Shading 2"></w:LsdException> <w:LsdException Locked="false" Priority="65" Name="Medium List 1"></w:LsdException> <w:LsdException Locked="false" Priority="66" Name="Medium List 2"></w:LsdException> <w:LsdException Locked="false" Priority="67" Name="Medium Grid 1"></w:LsdException> <w:LsdException Locked="false" Priority="68" Name="Medium Grid 2"></w:LsdException> <w:LsdException Locked="false" Priority="69" Name="Medium Grid 3"></w:LsdException> <w:LsdException Locked="false" Priority="70" Name="Dark List"></w:LsdException> <w:LsdException Locked="false" Priority="71" Name="Colorful Shading"></w:LsdException> <w:LsdException Locked="false" Priority="72" Name="Colorful List"></w:LsdException> <w:LsdException Locked="false" Priority="73" Name="Colorful Grid"></w:LsdException> <w:LsdException Locked="false" Priority="60" Name="Light Shading Accent 1"></w:LsdException> <w:LsdException Locked="false" Priority="61" Name="Light List Accent 1"></w:LsdException> <w:LsdException Locked="false" Priority="62" Name="Light Grid Accent 1"></w:LsdException> <w:LsdException Locked="false" Priority="63" Name="Medium Shading 1 Accent 1"></w:LsdException> <w:LsdException Locked="false" Priority="64" Name="Medium Shading 2 Accent 1"></w:LsdException> <w:LsdException Locked="false" Priority="65" Name="Medium List 1 Accent 1"></w:LsdException> <w:LsdException Locked="false" SemiHidden="true" Name="Revision"></w:LsdException> <w:LsdException Locked="false" Priority="34" QFormat="true" Name="List Paragraph"></w:LsdException> <w:LsdException Locked="false" Priority="29" QFormat="true" Name="Quote"></w:LsdException> <w:LsdException Locked="false" Priority="30" QFormat="true" Name="Intense Quote"></w:LsdException> <w:LsdException Locked="false" Priority="66" Name="Medium List 2 Accent 1"></w:LsdException> <w:LsdException Locked="false" Priority="67" Name="Medium Grid 1 Accent 1"></w:LsdException> <w:LsdException Locked="false" Priority="68" Name="Medium Grid 2 Accent 1"></w:LsdException> <w:LsdException Locked="false" Priority="69" Name="Medium Grid 3 Accent 1"></w:LsdException> <w:LsdException Locked="false" Priority="70" Name="Dark List Accent 1"></w:LsdException> <w:LsdException Locked="false" Priority="71" Name="Colorful Shading Accent 1"></w:LsdException> <w:LsdException Locked="false" Priority="72" Name="Colorful List Accent 1"></w:LsdException> <w:LsdException Locked="false" Priority="73" Name="Colorful Grid Accent 1"></w:LsdException> <w:LsdException Locked="false" Priority="60" Name="Light Shading Accent 2"></w:LsdException> <w:LsdException Locked="false" Priority="61" Name="Light List Accent 2"></w:LsdException> <w:LsdException Locked="false" Priority="62" Name="Light Grid Accent 2"></w:LsdException> <w:LsdException Locked="false" Priority="63" Name="Medium Shading 1 Accent 2"></w:LsdException> <w:LsdException Locked="false" Priority="64" Name="Medium Shading 2 Accent 2"></w:LsdException> <w:LsdException Locked="false" Priority="65" Name="Medium List 1 Accent 2"></w:LsdException> <w:LsdException Locked="false" Priority="66" Name="Medium List 2 Accent 2"></w:LsdException> <w:LsdException Locked="false" Priority="67" Name="Medium Grid 1 Accent 2"></w:LsdException> <w:LsdException Locked="false" Priority="68" Name="Medium Grid 2 Accent 2"></w:LsdException> <w:LsdException Locked="false" Priority="69" Name="Medium Grid 3 Accent 2"></w:LsdException> <w:LsdException Locked="false" Priority="70" Name="Dark List Accent 2"></w:LsdException> <w:LsdException Locked="false" Priority="71" Name="Colorful Shading Accent 2"></w:LsdException> <w:LsdException Locked="false" Priority="72" Name="Colorful List Accent 2"></w:LsdException> <w:LsdException Locked="false" Priority="73" Name="Colorful Grid Accent 2"></w:LsdException> <w:LsdException Locked="false" Priority="60" Name="Light Shading Accent 3"></w:LsdException> <w:LsdException Locked="false" Priority="61" Name="Light List Accent 3"></w:LsdException> <w:LsdException Locked="false" Priority="62" Name="Light Grid Accent 3"></w:LsdException> <w:LsdException Locked="false" Priority="63" Name="Medium Shading 1 Accent 3"></w:LsdException> <w:LsdException Locked="false" Priority="64" Name="Medium Shading 2 Accent 3"></w:LsdException> <w:LsdException Locked="false" Priority="65" Name="Medium List 1 Accent 3"></w:LsdException> <w:LsdException Locked="false" Priority="66" Name="Medium List 2 Accent 3"></w:LsdException> <w:LsdException Locked="false" Priority="67" Name="Medium Grid 1 Accent 3"></w:LsdException> <w:LsdException Locked="false" Priority="68" Name="Medium Grid 2 Accent 3"></w:LsdException> <w:LsdException Locked="false" Priority="69" Name="Medium Grid 3 Accent 3"></w:LsdException> <w:LsdException Locked="false" Priority="70" Name="Dark List Accent 3"></w:LsdException> <w:LsdException Locked="false" Priority="71" Name="Colorful Shading Accent 3"></w:LsdException> <w:LsdException Locked="false" Priority="72" Name="Colorful List Accent 3"></w:LsdException> <w:LsdException Locked="false" Priority="73" Name="Colorful Grid Accent 3"></w:LsdException> <w:LsdException Locked="false" Priority="60" Name="Light Shading Accent 4"></w:LsdException> <w:LsdException Locked="false" Priority="61" Name="Light List Accent 4"></w:LsdException> <w:LsdException Locked="false" Priority="62" Name="Light Grid Accent 4"></w:LsdException> <w:LsdException Locked="false" Priority="63" Name="Medium Shading 1 Accent 4"></w:LsdException> <w:LsdException Locked="false" Priority="64" Name="Medium Shading 2 Accent 4"></w:LsdException> <w:LsdException Locked="false" Priority="65" Name="Medium List 1 Accent 4"></w:LsdException> <w:LsdException Locked="false" Priority="66" Name="Medium List 2 Accent 4"></w:LsdException> <w:LsdException Locked="false" Priority="67" Name="Medium Grid 1 Accent 4"></w:LsdException> <w:LsdException Locked="false" Priority="68" Name="Medium Grid 2 Accent 4"></w:LsdException> <w:LsdException Locked="false" Priority="69" Name="Medium Grid 3 Accent 4"></w:LsdException> <w:LsdException Locked="false" Priority="70" Name="Dark List Accent 4"></w:LsdException> <w:LsdException Locked="false" Priority="71" Name="Colorful Shading Accent 4"></w:LsdException> <w:LsdException Locked="false" Priority="72" Name="Colorful List Accent 4"></w:LsdException> <w:LsdException Locked="false" Priority="73" Name="Colorful Grid Accent 4"></w:LsdException> <w:LsdException Locked="false" Priority="60" Name="Light Shading Accent 5"></w:LsdException> <w:LsdException Locked="false" Priority="61" Name="Light List Accent 5"></w:LsdException> <w:LsdException Locked="false" Priority="62" Name="Light Grid Accent 5"></w:LsdException> <w:LsdException Locked="false" Priority="63" Name="Medium Shading 1 Accent 5"></w:LsdException> <w:LsdException Locked="false" Priority="64" Name="Medium Shading 2 Accent 5"></w:LsdException> <w:LsdException Locked="false" Priority="65" Name="Medium List 1 Accent 5"></w:LsdException> <w:LsdException Locked="false" Priority="66" Name="Medium List 2 Accent 5"></w:LsdException> <w:LsdException Locked="false" Priority="67" Name="Medium Grid 1 Accent 5"></w:LsdException> <w:LsdException Locked="false" Priority="68" Name="Medium Grid 2 Accent 5"></w:LsdException> <w:LsdException Locked="false" Priority="69" Name="Medium Grid 3 Accent 5"></w:LsdException> <w:LsdException Locked="false" Priority="70" Name="Dark List Accent 5"></w:LsdException> <w:LsdException Locked="false" Priority="71" Name="Colorful Shading Accent 5"></w:LsdException> <w:LsdException Locked="false" Priority="72" Name="Colorful List Accent 5"></w:LsdException> <w:LsdException Locked="false" Priority="73" Name="Colorful Grid Accent 5"></w:LsdException> <w:LsdException Locked="false" Priority="60" Name="Light Shading Accent 6"></w:LsdException> <w:LsdException Locked="false" Priority="61" Name="Light List Accent 6"></w:LsdException> <w:LsdException Locked="false" Priority="62" Name="Light Grid Accent 6"></w:LsdException> <w:LsdException Locked="false" Priority="63" Name="Medium Shading 1 Accent 6"></w:LsdException> <w:LsdException Locked="false" Priority="64" Name="Medium Shading 2 Accent 6"></w:LsdException> <w:LsdException Locked="false" Priority="65" Name="Medium List 1 Accent 6"></w:LsdException> <w:LsdException Locked="false" Priority="66" Name="Medium List 2 Accent 6"></w:LsdException> <w:LsdException Locked="false" Priority="67" Name="Medium Grid 1 Accent 6"></w:LsdException> <w:LsdException Locked="false" Priority="68" Name="Medium Grid 2 Accent 6"></w:LsdException> <w:LsdException Locked="false" Priority="69" Name="Medium Grid 3 Accent 6"></w:LsdException> <w:LsdException Locked="false" Priority="70" Name="Dark List Accent 6"></w:LsdException> <w:LsdException Locked="false" Priority="71" Name="Colorful Shading Accent 6"></w:LsdException> <w:LsdException Locked="false" Priority="72" Name="Colorful List Accent 6"></w:LsdException> <w:LsdException Locked="false" Priority="73" Name="Colorful Grid Accent 6"></w:LsdException> <w:LsdException Locked="false" Priority="19" QFormat="true" Name="Subtle Emphasis"></w:LsdException> <w:LsdException Locked="false" Priority="21" QFormat="true" Name="Intense Emphasis"></w:LsdException> <w:LsdException Locked="false" Priority="31" QFormat="true" Name="Subtle Reference"></w:LsdException> <w:LsdException Locked="false" Priority="32" QFormat="true" Name="Intense Reference"></w:LsdException> <w:LsdException Locked="false" Priority="33" QFormat="true" Name="Book Title"></w:LsdException> <w:LsdException Locked="false" Priority="37" SemiHidden="true" UnhideWhenUsed="true" Name="Bibliography"></w:LsdException> <w:LsdException Locked="false" Priority="39" SemiHidden="true" UnhideWhenUsed="true" QFormat="true" Name="TOC Heading"></w:LsdException> <w:LsdException Locked="false" Priority="41" Name="Plain Table 1"></w:LsdException> <w:LsdException Locked="false" Priority="42" Name="Plain Table 2"></w:LsdException> <w:LsdException Locked="false" Priority="43" Name="Plain Table 3"></w:LsdException> <w:LsdException Locked="false" Priority="44" Name="Plain Table 4"></w:LsdException> <w:LsdException Locked="false" Priority="45" Name="Plain Table 5"></w:LsdException> <w:LsdException Locked="false" Priority="40" Name="Grid Table Light"></w:LsdException> <w:LsdException Locked="false" Priority="46" Name="Grid Table 1 Light"></w:LsdException> <w:LsdException Locked="false" Priority="47" Name="Grid Table 2"></w:LsdException> <w:LsdException Locked="false" Priority="48" Name="Grid Table 3"></w:LsdException> <w:LsdException Locked="false" Priority="49" Name="Grid Table 4"></w:LsdException> <w:LsdException Locked="false" Priority="50" Name="Grid Table 5 Dark"></w:LsdException> <w:LsdException Locked="false" Priority="51" Name="Grid Table 6 Colorful"></w:LsdException> <w:LsdException Locked="false" Priority="52" Name="Grid Table 7 Colorful"></w:LsdException> <w:LsdException Locked="false" Priority="46" Name="Grid Table 1 Light Accent 1"></w:LsdException> <w:LsdException Locked="false" Priority="47" Name="Grid Table 2 Accent 1"></w:LsdException> <w:LsdException Locked="false" Priority="48" Name="Grid Table 3 Accent 1"></w:LsdException> <w:LsdException Locked="false" Priority="49" Name="Grid Table 4 Accent 1"></w:LsdException> <w:LsdException Locked="false" Priority="50" Name="Grid Table 5 Dark Accent 1"></w:LsdException> <w:LsdException Locked="false" Priority="51" Name="Grid Table 6 Colorful Accent 1"></w:LsdException> <w:LsdException Locked="false" Priority="52" Name="Grid Table 7 Colorful Accent 1"></w:LsdException> <w:LsdException Locked="false" Priority="46" Name="Grid Table 1 Light Accent 2"></w:LsdException> <w:LsdException Locked="false" Priority="47" Name="Grid Table 2 Accent 2"></w:LsdException> <w:LsdException Locked="false" Priority="48" Name="Grid Table 3 Accent 2"></w:LsdException> <w:LsdException Locked="false" Priority="49" Name="Grid Table 4 Accent 2"></w:LsdException> <w:LsdException Locked="false" Priority="50" Name="Grid Table 5 Dark Accent 2"></w:LsdException> <w:LsdException Locked="false" Priority="51" Name="Grid Table 6 Colorful Accent 2"></w:LsdException> <w:LsdException Locked="false" Priority="52" Name="Grid Table 7 Colorful Accent 2"></w:LsdException> <w:LsdException Locked="false" Priority="46" Name="Grid Table 1 Light Accent 3"></w:LsdException> <w:LsdException Locked="false" Priority="47" Name="Grid Table 2 Accent 3"></w:LsdException> <w:LsdException Locked="false" Priority="48" Name="Grid Table 3 Accent 3"></w:LsdException> <w:LsdException Locked="false" Priority="49" Name="Grid Table 4 Accent 3"></w:LsdException> <w:LsdException Locked="false" Priority="50" Name="Grid Table 5 Dark Accent 3"></w:LsdException> <w:LsdException Locked="false" Priority="51" Name="Grid Table 6 Colorful Accent 3"></w:LsdException> <w:LsdException Locked="false" Priority="52" Name="Grid Table 7 Colorful Accent 3"></w:LsdException> <w:LsdException Locked="false" Priority="46" Name="Grid Table 1 Light Accent 4"></w:LsdException> <w:LsdException Locked="false" Priority="47" Name="Grid Table 2 Accent 4"></w:LsdException> <w:LsdException Locked="false" Priority="48" Name="Grid Table 3 Accent 4"></w:LsdException> <w:LsdException Locked="false" Priority="49" Name="Grid Table 4 Accent 4"></w:LsdException> <w:LsdException Locked="false" Priority="50" Name="Grid Table 5 Dark Accent 4"></w:LsdException> <w:LsdException Locked="false" Priority="51" Name="Grid Table 6 Colorful Accent 4"></w:LsdException> <w:LsdException Locked="false" Priority="52" Name="Grid Table 7 Colorful Accent 4"></w:LsdException> <w:LsdException Locked="false" Priority="46" Name="Grid Table 1 Light Accent 5"></w:LsdException> <w:LsdException Locked="false" Priority="47" Name="Grid Table 2 Accent 5"></w:LsdException> <w:LsdException Locked="false" Priority="48" Name="Grid Table 3 Accent 5"></w:LsdException> <w:LsdException Locked="false" Priority="49" Name="Grid Table 4 Accent 5"></w:LsdException> <w:LsdException Locked="false" Priority="50" Name="Grid Table 5 Dark Accent 5"></w:LsdException> <w:LsdException Locked="false" Priority="51" Name="Grid Table 6 Colorful Accent 5"></w:LsdException> <w:LsdException Locked="false" Priority="52" Name="Grid Table 7 Colorful Accent 5"></w:LsdException> <w:LsdException Locked="false" Priority="46" Name="Grid Table 1 Light Accent 6"></w:LsdException> <w:LsdException Locked="false" Priority="47" Name="Grid Table 2 Accent 6"></w:LsdException> <w:LsdException Locked="false" Priority="48" Name="Grid Table 3 Accent 6"></w:LsdException> <w:LsdException Locked="false" Priority="49" Name="Grid Table 4 Accent 6"></w:LsdException> <w:LsdException Locked="false" Priority="50" Name="Grid Table 5 Dark Accent 6"></w:LsdException> <w:LsdException Locked="false" Priority="51" Name="Grid Table 6 Colorful Accent 6"></w:LsdException> <w:LsdException Locked="false" Priority="52" Name="Grid Table 7 Colorful Accent 6"></w:LsdException> <w:LsdException Locked="false" Priority="46" Name="List Table 1 Light"></w:LsdException> <w:LsdException Locked="false" Priority="47" Name="List Table 2"></w:LsdException> <w:LsdException Locked="false" Priority="48" Name="List Table 3"></w:LsdException> <w:LsdException Locked="false" Priority="49" Name="List Table 4"></w:LsdException> <w:LsdException Locked="false" Priority="50" Name="List Table 5 Dark"></w:LsdException> <w:LsdException Locked="false" Priority="51" Name="List Table 6 Colorful"></w:LsdException> <w:LsdException Locked="false" Priority="52" Name="List Table 7 Colorful"></w:LsdException> <w:LsdException Locked="false" Priority="46" Name="List Table 1 Light Accent 1"></w:LsdException> <w:LsdException Locked="false" Priority="47" Name="List Table 2 Accent 1"></w:LsdException> <w:LsdException Locked="false" Priority="48" Name="List Table 3 Accent 1"></w:LsdException> <w:LsdException Locked="false" Priority="49" Name="List Table 4 Accent 1"></w:LsdException> <w:LsdException Locked="false" Priority="50" Name="List Table 5 Dark Accent 1"></w:LsdException> <w:LsdException Locked="false" Priority="51" Name="List Table 6 Colorful Accent 1"></w:LsdException> <w:LsdException Locked="false" Priority="52" Name="List Table 7 Colorful Accent 1"></w:LsdException> <w:LsdException Locked="false" Priority="46" Name="List Table 1 Light Accent 2"></w:LsdException> <w:LsdException Locked="false" Priority="47" Name="List Table 2 Accent 2"></w:LsdException> <w:LsdException Locked="false" Priority="48" Name="List Table 3 Accent 2"></w:LsdException> <w:LsdException Locked="false" Priority="49" Name="List Table 4 Accent 2"></w:LsdException> <w:LsdException Locked="false" Priority="50" Name="List Table 5 Dark Accent 2"></w:LsdException> <w:LsdException Locked="false" Priority="51" Name="List Table 6 Colorful Accent 2"></w:LsdException> <w:LsdException Locked="false" Priority="52" Name="List Table 7 Colorful Accent 2"></w:LsdException> <w:LsdException Locked="false" Priority="46" Name="List Table 1 Light Accent 3"></w:LsdException> <w:LsdException Locked="false" Priority="47" Name="List Table 2 Accent 3"></w:LsdException> <w:LsdException Locked="false" Priority="48" Name="List Table 3 Accent 3"></w:LsdException> <w:LsdException Locked="false" Priority="49" Name="List Table 4 Accent 3"></w:LsdException> <w:LsdException Locked="false" Priority="50" Name="List Table 5 Dark Accent 3"></w:LsdException> <w:LsdException Locked="false" Priority="51" Name="List Table 6 Colorful Accent 3"></w:LsdException> <w:LsdException Locked="false" Priority="52" Name="List Table 7 Colorful Accent 3"></w:LsdException> <w:LsdException Locked="false" Priority="46" Name="List Table 1 Light Accent 4"></w:LsdException> <w:LsdException Locked="false" Priority="47" Name="List Table 2 Accent 4"></w:LsdException> <w:LsdException Locked="false" Priority="48" Name="List Table 3 Accent 4"></w:LsdException> <w:LsdException Locked="false" Priority="49" Name="List Table 4 Accent 4"></w:LsdException> <w:LsdException Locked="false" Priority="50" Name="List Table 5 Dark Accent 4"></w:LsdException> <w:LsdException Locked="false" Priority="51" Name="List Table 6 Colorful Accent 4"></w:LsdException> <w:LsdException Locked="false" Priority="52" Name="List Table 7 Colorful Accent 4"></w:LsdException> <w:LsdException Locked="false" Priority="46" Name="List Table 1 Light Accent 5"></w:LsdException> <w:LsdException Locked="false" Priority="47" Name="List Table 2 Accent 5"></w:LsdException> <w:LsdException Locked="false" Priority="48" Name="List Table 3 Accent 5"></w:LsdException> <w:LsdException Locked="false" Priority="49" Name="List Table 4 Accent 5"></w:LsdException> <w:LsdException Locked="false" Priority="50" Name="List Table 5 Dark Accent 5"></w:LsdException> <w:LsdException Locked="false" Priority="51" Name="List Table 6 Colorful Accent 5"></w:LsdException> <w:LsdException Locked="false" Priority="52" Name="List Table 7 Colorful Accent 5"></w:LsdException> <w:LsdException Locked="false" Priority="46" Name="List Table 1 Light Accent 6"></w:LsdException> <w:LsdException Locked="false" Priority="47" Name="List Table 2 Accent 6"></w:LsdException> <w:LsdException Locked="false" Priority="48" Name="List Table 3 Accent 6"></w:LsdException> <w:LsdException Locked="false" Priority="49" Name="List Table 4 Accent 6"></w:LsdException> <w:LsdException Locked="false" Priority="50" Name="List Table 5 Dark Accent 6"></w:LsdException> <w:LsdException Locked="false" Priority="51" Name="List Table 6 Colorful Accent 6"></w:LsdException> <w:LsdException Locked="false" Priority="52" Name="List Table 7 Colorful Accent 6"></w:LsdException> <w:LsdException Locked="false" SemiHidden="true" UnhideWhenUsed="true" Name="Mention"></w:LsdException> </w:LatentStyles> </xml><![endif]--><!--[if gte mso 10]> <style> /* Style Definitions */ table.MsoNormalTable {mso-style-name:"Table Normal"; mso-tstyle-rowband-size:0; mso-tstyle-colband-size:0; mso-style-noshow:yes; mso-style-priority:99; mso-style-parent:""; mso-padding-alt:0in 5.4pt 0in 5.4pt; mso-para-margin-top:0in; mso-para-margin-right:0in; mso-para-margin-bottom:8.0pt; mso-para-margin-left:0in; line-height:107%; mso-pagination:widow-orphan; font-size:11.0pt; font-family:"Calibri",sans-serif; mso-ascii-font-family:Calibri; mso-ascii-theme-font:minor-latin; mso-hansi-font-family:Calibri; mso-hansi-theme-font:minor-latin;} </style> <![endif]-->
Content: A continuing education and staff development product for direct care and administrative personnel in child care settings. It was developed to be covered in three, (3) hours. It provides popularly valued dynamics that can help a child to maintain peace of mind when parents are at odds.
Delivery: Once your order is placed you receive links to download your product or the printable product as a PDF via email. If it is your preference to train in the online school, perhaps using a subscription for multiple employees Click Here. For the entire virtual school library Click Here.
More details via email only: onlinelearning@childcaretrainingcenter.org.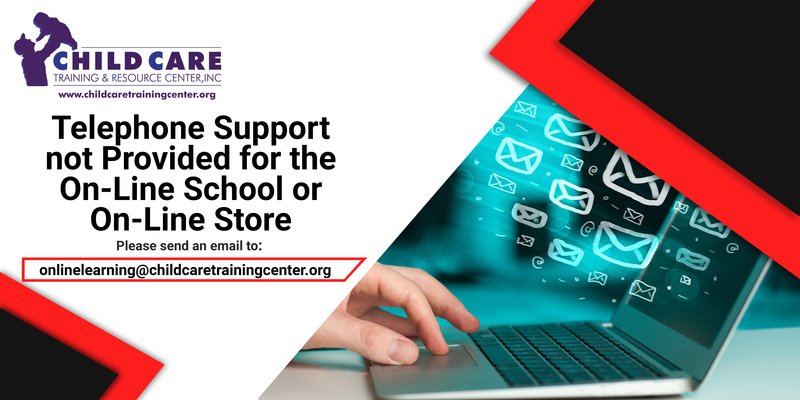 Reviews
Featured Products