Michigan: Continuing Education and Staff Development: Annual Subscription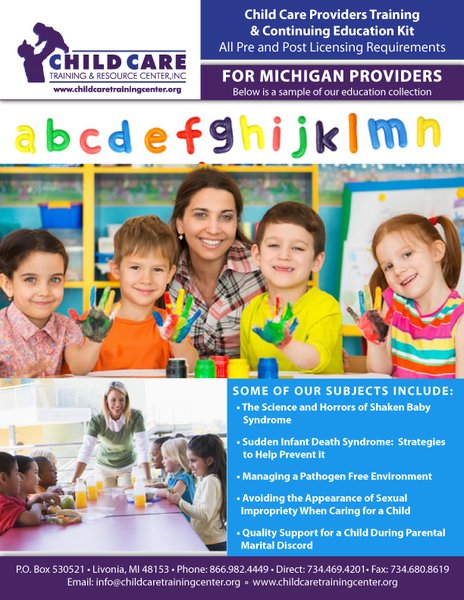 Michigan: Continuing Education and Staff Development: Annual Subscription
Special Offer: Expires Soon....
Until December 31, 2016 email us the photos you take with your phone or tablet and a name and we create free identification badges for up to five, (5) staff.

Providers of care in day care and child group home environments in the State of Michigan have an annual continuing education requirement. We satisfy that need. The applicable rules read as follows:
The center shall provide an orientation of the center's policies and practices and the child care administrative rules to all staff hired after the effective date of these rules and before unsupervised contact with children.
(2) Caregivers shall have training that includes information about infant safe sleep and shaken baby syndrome before caring for infants and toddlers.
(3) Before unsupervised contact with children, each caregiver, site supervisor, and program director shall complete blood-borne pathogen training.
(4) All program directors, site supervisors, and caregivers shall complete 16 clock hours of professional development annually on topics relevant to job responsibilities, including, but not limited to, child development and learning; health, safety and nutrition; family and community collaboration; program management; teaching and learning; observation, documentation, and assessment; interactions and guidance; professionalism; and the child care center administrative rules.
The center may count CPR and first aid training for up to 2 hours of the annual professional development hours in the year taken.
(5) An on-going professional development plan shall be developed and implemented to include all the training and professional development required by the child care center administrative rules.
(6) On-line trainings and correspondence courses shall have an assessment of learning.
How this product fills the need?
Annually Required Continuing Education: When you have an annual subscription which is $229.95 per year, you get to select six, (6) of our courses per year. Since each represents three, (3) hours of continuing education, this gives you eighteen, (18) hours to ensure your requirements are satisfied. Next year, pick six, (6) new subjects. Since we introduced about ten, (10) new ones per year you will always have a variety to make usage of. You have the option of using pre-printed self-study products, recorded audio/visual products for 10 employees and up to 5 can complete courses in the online school.

Care Staff: Owners and Administrators can then use these same products as staff development items and satisfy their training requirements. Build a library to keep your people and yourself polished in a pragmatic way!
Health & Safety: The subscription comes with CPR/First Aid for three, (3) staff members each year. Add others for a fee. On-site health & safety applies in the Michigan counties of: Ingham, Jackson, Livingston, Macomb, Monroe, Oakland, St. Clair, Washtenaw and Wayne. Others should ask about on-line CPR/First Aid. Providers not operating in these counties can combine with others and request on-site training.
Contact Bruce at 866.982.4449 Ext. 101.
Click Here for an Explanation of How the Annual Subscription Works
Child day care providers pay one price per building for access to all of our products. Use them, send us the review questions and we validate pre-hire training and annual continuing education for up to ten, (10 people per facility.
This subscription is for all of our 3-Hour continuing education courses which have been prepared specifically for child day care and child group home providers in the State of Michigan. Each course has been prepared with a methodology that supports three, (3) hours of annually required continuing education.
In addition each subscriber is allowed to attend an on-line presentation each month which can be used for continuing education or ongoing staff development. Click here for printable schedule.
Delivery: Once your order is placed you receive links to download your product. You have options of printed self-study products in digital format or usage of the on-line school. More details by phone or email: info@childcaretrainingcenter.org or 866.982.4449 Ext. 101.

Reviews
Featured Products