Special Annual Subscription for Great Start Readiness Providers - Train up to 25 Staff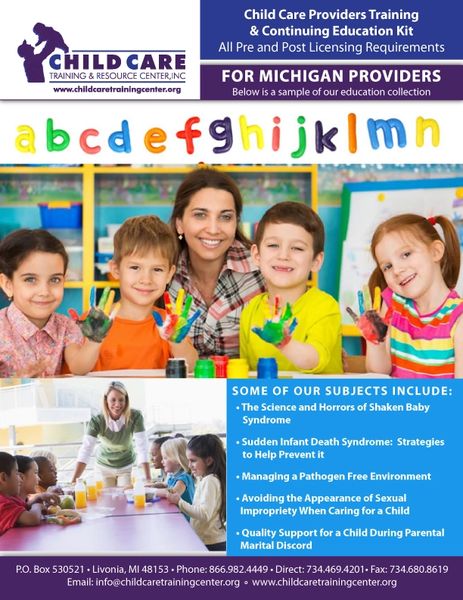 Special Annual Subscription for Great Start Readiness Providers - Train up to 25 Staff
The Great Start Readiness Program (GSRP) is Michigan's state-funded preschool program for four-year-old children with factors which may place them at risk of educational failure. The program is administered by the Michigan Department of Education, Office of Great Start. Funding is allocated to each intermediate school district to administer the program locally.
Workers in these programs have a 24-hour annual continuing education requirement. Using our products, all designed to accomplish 3 hours of continuing education credits each, we provide eight, (8) courses annually and training for up to twenty-five, (25) employees.

They have the option of utilizing our online school or printable, self-study products which owners and directors may also utilize for innovative in-service sessions.
One the purchase is made in this store, your County Coordinator will reach out to you by phone and allow you to choose eight, (8) of the following courses:
(The available 8 are changed every January)
| | | |
| --- | --- | --- |
| 1201 | Maintaining a Child's Dignity | How is dignity defined and how does it relate to the care of a child? How can we intensify the preservation of a child's dignity when giving instruction, correction or assisting in personal care? |
| 1202 | The Science and Horrors of Shaken Baby Syndrome | What is Shaken Baby Syndrome? How can you ensure it does not occur? Even if death does not result, how can a child be permanently damaged by this action? |
| 1203 | Sudden Infant Death Syndrome | Why does this occur? What recommendations do the medical community provide to try and prevent it? |
| 1204 | Safe Baby Sleeping Habits | Why proper sleeping positions and related conditions contribute to slumber safety. How does what is best differ from child to child. Why pulmonary conditions must be learned about by child caregivers. |
| 1205 | Why Ergonomics are Important in Furniture Used for Children | How the right furniture contributes to proper muscle growth and support while the ergonomically wrong furniture can contribute to pain, lessened attention spans and other discomfort. |
| 1206 | Dealing with Difficult Parents | How to diffuse potentially volatile situations and make them work for you. |
| 1207 | Effectively Managing Your Center or Home Day Care Liability | What patterns and practices can create unwanted liability and how you can stay out in front of it |
| 1208 | Keeping Your Child Care Program Financially Viable | From owner savings to expense control, how you can ensure you keep your program healthy. |
| 1209 | Avoiding the Appearance of Sexual Impropriety When Rendering Care to a Child | Techniques to ensure your intentions and actions are not misinterpreted. Safeguards to ensure decency is the rule in the work of all staff. |
| 1210 | Easier Communication with children Diagnosed with Autism | Tools and techniques used by experts to help this special population maximize their benefit from child day care programs. |
Why we are your only training source....
Reviews
Featured Products