Special Product with the 2-Year Extension for Michigan Great Start and Other Child Care Providers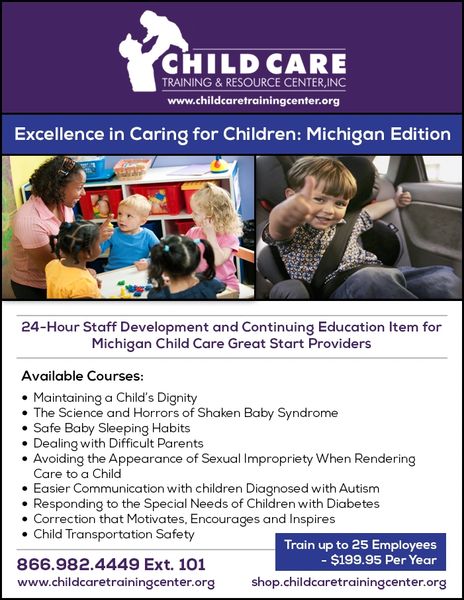 Special Product with the 2-Year Extension for Michigan Great Start and Other Child Care Providers
This is an annual subscription for Michigan child care providers in child day care, early childhood education and child group home environments. It has as a special focus Great Start providers. There are eight, (8) individual courses with each meeting the requirements as annual continuing education items of three, (3) hours of continuing education credits each. Collectively they represent twenty-four CEUs.
A provider has the option of choosing to utilize the online school for five, (5) of your staff and/or ordering printable, self-study products which you can use to create your own manual for up to fifteen, (15)of your staff. We provide an independent set of eyes for review of summary data once a course is completed, which leads to our issuing a Completion Certificate for each employee utilizing the courses. Once your purchase is made herein, you receive an email asking you to select the learning methodology you prefer.

Available courses are:
·

Maintaining a Child's Dignity
Blood Borne Pathogens: Prevention & Containment of Communicable Disease

·

The Science and Horrors of Shaken Baby Syndrome
·

Safe Baby Sleeping Habits
·

Dealing with Difficult Parents
·

Avoiding the Appearance of Sexual Impropriety When Rendering Care to a Child
·

Easier Communication with children Diagnosed with Autism
·

Responding to the Special Needs of Children with Diabetes
·

Correction that Motivates, Encourages and Inspires
·

Child Transportation Safety
Click Here for downloadable, printable list of subjects and their highlights.

Providers of Maternal Infant Health Services are making these products available free of charge to parents they serve. All eight, (8) courses are available annually to MIHP providers at the same price of $199.95. This allows you to be a real community asset.

Reviews
Featured Products